"Piece of Cake"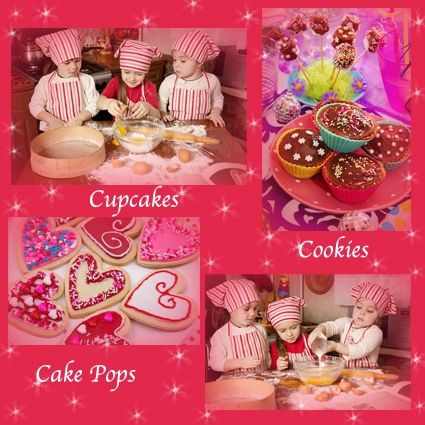 For girls and boys over 4 years old.
Here's a unique party idea for your children – a Bakery theme party!
Lots of children love to help in the kitchen, so this is the perfect party theme where they'll be responsible for their own tea party, and be proud of their creations !
With glitter, icing sugar and sweets, the childrens' laughter will create unforgettable memories for them.
And have fun with a 'chef's outfit' plus a very special photo shooting .. !
Ready to have fun with creative activities !
When finished, the cakes can be packed up in small boxes so the children can take them home to show their parents.
"Atelier Pâtisserie Party"
A partir de 4 ans pour les filles et garçons.
Voila une idée unique et très originale pour fêter l'anniversaire de votre enfant :
Beaucoup d'enfants aiment aider leurs parents en cuisine. Nous allons préparer ensemble leur goûter et ils seront fiers de leurs créations !!!
Au milieu des paillettes, du sucre glace et des bonbons, les rires autour d'une table resteront des moments inoubliables.
Au programme, un reportage photo rigolo en tenue de chef et bataille de farine !
Les enfants pourront repartir avec un petit gâteau de leur création dans une boite pour le partager avec leurs parents.